The 2nd International Conference on Water, Megacities and Global Change, referred to as EauMega 2020.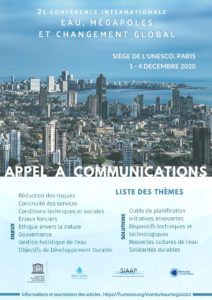 –          Date : The conference will be held to 1-4 December 2020, to facilitate necessary organizational arrangements and to celebrate the 5 year anniversary from its first edition, EauMega 2015
–          Call for papers :  using the attached PDF document in english, en français
–          Chairs of the Programme Committee : 2 well-known international water experts, Dr. Blanca Jimenez-Cisneros and Dr. Jean-Marie Mouchel.
Dr. Blanca Jiménez Cisneros, professor at the National University of Mexico (UNAM) with more than 509 publications in international and national journals, books and conferences and numerous projects at national, regional and international level, has 35 years of professional experience in research and governmental positions, as an environmental engineer specialized in water management. She is currently the Director General of Comisión Nacional del Agua (CONAGUA, Mexico National Water Operator) and former Director of UNESCO's Division of Water Sciences and Secretary of the International Hydrological Programme.
Jean-Marie Mouchel, professor at Sorbonne University, heads the UMR 7619 Metis (https://www.metis.upmc.fr) and the Zone-Atelier Seine of the CNRS (za-seine.fr). He has more than 30 years of experience in the field of water quality and management. After a first scientific experiment devoted to estuaries and coastal environments, he became particularly interested in the impacts of urban environments on the quality of aquatic environments. He also focused on the interactions with water and environmental managers in the construction and implementation of his research projects.